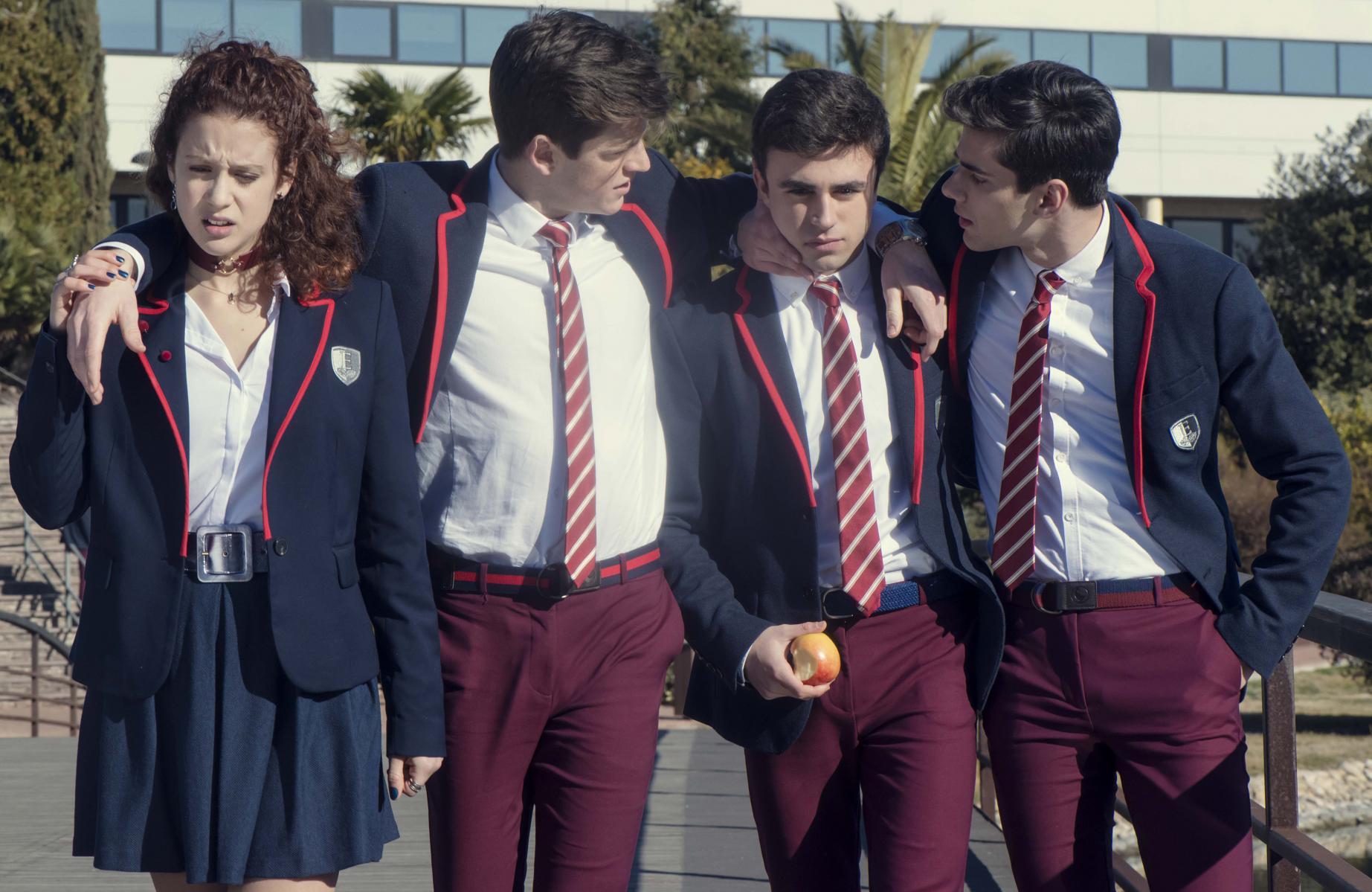 Elite is a Spanish web television series about three working class teens that attend a wealthy school. With all the drama that ensues, episode 1 reveals that there is a murder that takes place as someone from the main cast is responsible for the death of another main character. This series caught me by surprise, and it's sort of like if Gossip Girl and Big Little Lies had a baby. Also, times the drama by 15 because there's a lot packed into this eight episode series. I'll be breaking up the review into the sets of characters who shared a story line. Read with caution because this does contain spoilers. Let's start with the romance and then we'll get to the murder.
Everything Marina, Samuel & Nano: So Samuel likes Marina. Nano likes Marina. And Samuel and Nano are brothers. Cue the drama. At first, I thought Marina was miscast because I did not feel the chemistry with Samuel, but then I realized that maybe we as an audience weren't supposed to buy them as a couple because her chemistry with Nano was so much more intense. I feel bad for Samuel, but I also wished he stood up for himself more because as much as Marina was going through, she was a terrible girlfriend to him. Also regarding Samuel, I adored his friendship with Omar. I actually liked Samuel supporting his friends way more than his interactions with Marina.
Polo, Christian & Carla: Okay I was not expecting there to be a story line like this. Polo and Carla have been together forever, but they're bored. So enters Christian who becomes obsessed with fitting in with the elite crowd, and we've got a throuple. It's a pretty messed up story line because both Polo and Christian would do anything for Carla, include share her with another man, but I couldn't take my eyes away from this captivating plot. You can tell that Christian enjoys the luxury and I have to hand it to the actor because he's kind of like a cartoon character. But with Polo, there's much more of a darkness with his adoration with Carla.
Guzman and Nadia: Guzman is the top dog at school. We establish that he's supposed to be the rich popular guy. He starts off dating Lu, his other popular counterpart, and they make a bet to take new girl Nadia's virginity. Nadia is a Muslim girl who struggles with her family values and her school life, but she's one tough cookie. Her romance with Guzman was so innocent and sweet. To see the chemistry build episode after episode without ever sealing things with a kiss makes them such a rootable couple for the second season. I like that they're both pretty imperfect as well. Guzman can be materialistic and lose his temper. Nadia can be close minded sometimes. But somehow, they work.
Ander and Omar: I saved the best for last because I loved watching these two on screen. Ander is the classic "athlete rich kid" who feels all this pressure from his family to be a tennis star. What I really liked about Ander was that he would always be the quiet or neutral one among the popular crew but when he blew up, you knew he was a lot more layered. While Ander seems to be angry a times, Omar is simply living his life  in fear. Omar is Nadia's sister who happens to be a gay drug dealing Muslim. They're from two completely different worlds, but the chemistry between them is electric. The actors are really fantastic, and their forbidden romance is hands down my favorite plot of the bunch because they're so darn cute together. Who's down for a double date between, Guzman and Nadia and Ander and Omar?
The Murder: MAJOR SPOILERS* So Marina dies. We find out in episode one and we're supposed to believe it was either Samuel or Nano because of all the relationship drama. For some reason, my dumb ass believed it was the teacher for some reason. Once Samuel accused the teacher of sleeping with Marina, I thought we were going to get real dark considering it cost him his job.
Similarly, in Big Little Lies, I thought the father of Ziggy was going to be Madeline's ex for some reason, and I thought Noel Kahn was the first A from Pretty Little Liars. I was wrong again. It was Polo. And it was actually done pretty masterfully in terms of storytelling. We get this threesome story line that very much feels separate from the other plot points, but it all makes perfect sense as things escalate over a watch that Carla is desperate to get back. Polo is so madly in love with Carla that it leads him to murdering Marina after a heated argument. I also was so in love with characters like Nadia and Ander that I was praying it wouldn't be one of my favorite characters. And we also slowly learn that Polo is a bit messed up himself so it all ties together well.
Something that Pretty Little Liars failed to do was give people the correct motives, but by the final episode, everyone has a motive and a damn good one at that. And something Gossip Girl also failed to do was stay on track with its original mystery after a few seasons. This show really impressed me, and I'm shocked it doesn't get more attention because it really deserves it. The acting is great. The murder was a great premise, but all the drama that ensues in between is gripping as well. I cannot wait for a second season.