Carly and Kirk: It was so cute when Kirk pretended like he didn't know he was going to call Carly's name. Then in the next episode, Kirk takes Carly on the cutest date ever. I thought they were so precious.
Ashley S and Nick: These two were hilarious on their date. They were both gone, and I loved that they just owned it. Nick has a fun personality, and these two are crazy together. I wished he and Sammy hadn't talked, because I have a feeling he might go back to her when she dumps Joe for good. It's two bad, because Ashley and Nick were so funny together. I also love the headbands she's been wearing.
Nick and Ashley's Date: https://www.whipclip.com/video/er936
JJ and Megan: So I officially love JJ. I would definitely be friends with him. He's so dramatic and doesn't understand how ridiculous he comes off. Even Megan wasn't that upset with him. But no one was mad at him, so he must have done something right. I'm gonna miss JJ. 😦 But he did give his rose to the right person, because Ashley is such great television.
Here's a link to JJ handing out his rose: https://www.whipclip.com/embed/eqivr
Jade and Tanner: Tanner is really falling for Jade, and it turns out that she feels the same way. They're a sweet couple for sure. I thought Tanner cutting the agave plant was funny, and I liked how they acted like a real couple. Just a quick side note, I LOVED Jade's ombre maxi dress. Here's what she posted about it on twitter.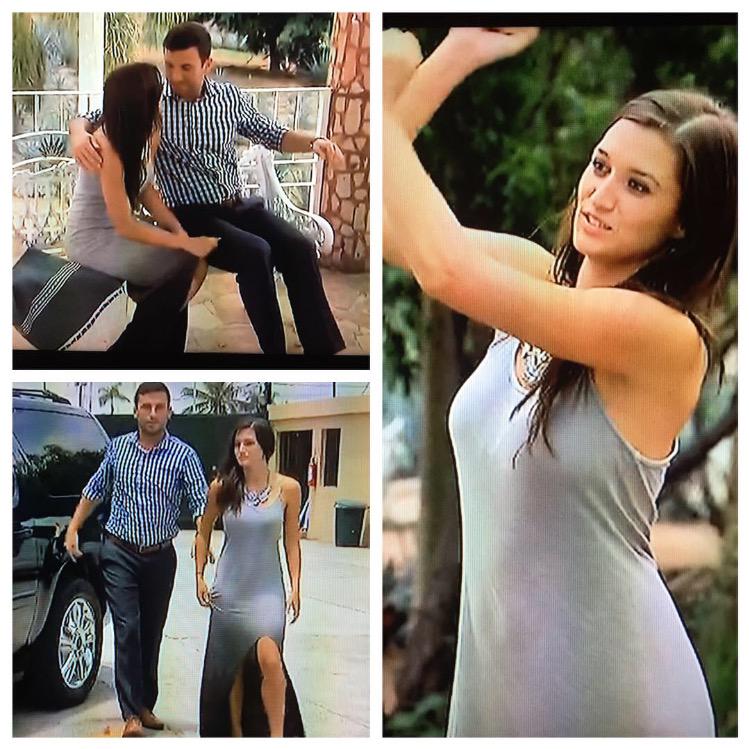 It's from ella a.: https://twitter.com/shopellea
Ashley and Jared: So Jared told Ashley that he wasn't feeling the chemistry, and I felt so bad for her. Jared was trying to be nice, but she was in tears and he let her be. Then Ashley calls Kaitlyn! Kaitlyn's reaction was priceless. Ashley really does have to move on. Let's also touch upon the friendship between Ashley and Joe. They were so funny, and I thought Ashley's idea was cute. I like that they formed an alliance to get back together with Sammy and Jared. It'll probably fail on both ends, but their wallowing in the episode was hysterical.
Juelia and Mikey: Who would've thought this couple would come to be kind of cute? I loved their date, and it turns out they have a lot of chemistry. I loved seeing Juelia finally happy, and their wrestling date was so cute.
Mikey and Juelia reunite: https://www.whipclip.com/video/eqnkv
Samantha and Joe: Again, I thought Ashley's idea was cute, but Sammy made it very clear that she didn't want Joe when she dumped him on his own birthday. Even though Joe is a douche, I did like seeing his goofy side with Ashley I. He's so depressed and Carly was right about karma coming back to bite him.
Amber and Dan: Dan better watch out for Justin…..
Also Ben H. is the next bachelor! 🙂